HUNTERLINE WEATHERING MIX INSTRUCTIONS
Check out our You Tube video showing specific applications of our Weathering Mix:
At Hunterline, we manufacture our own stains, called Weathering Mix. The Weathering Mix is available in a variety of colours and comes in an 8oz plastic bottle. See our website for available colours… http://www.hunterline.com 
Our 'Weathering Mix' is alcohol based. The benefits of using alcohol instead of water are fast drying times which helps prevent 'warping' of the wood. It's easy to dilute the mix to get varying degrees of a lighter stain by adding 70% Isopropyl Alcohol.
We use a combination of leather dyes and pigments to obtain our colour selections.
There are many ways to achieve the colouring. Remember, in nature, there is not a too dark nor too light. If you have your own method, fine, do it. If you don't, try the methods we use.
Hunterline 'Weathering Mix' was developed for basswood application, but, it also works well with other woods and can be applied to plastic, certain foams (not Styrofoam), hydrocal, cardboard and paper. These instructions pertain to basswood application. It also works well in combination with other products such as Pan Pastels.
Distressing the Wood
Begin 'weathering' by adding grain to the wood (distressing). This is accomplished by stroking a razor saw over all the surfaces, with the grain. Usually, with adequate pressure, one stroke will suffice.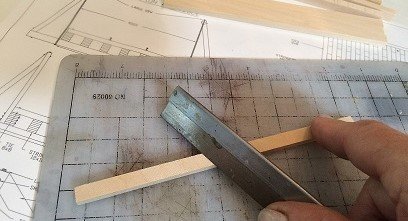 Distressing the wood using a razor saw.
You may find it quicker and easier to 'weather' all the wood components before cutting them to size. This is your preference, but remember to touch-up all the cut ends.
Remember that you cannot stain over glue, so stain everything before assembly.


Application
Wear protective gloves for the weathering process. Shake the bottle vigorously before using. Use straight from the bottle. We don't wipe the stain off, but you may want to wipe off the pigment based 'Weathering Mix' in some instances. i.e. for mortar lines on some plastic brick models.
You can achieve an entirely different effect by using a 'dry brush' method.
We try to apply haphazardly to get varying degrees of colour.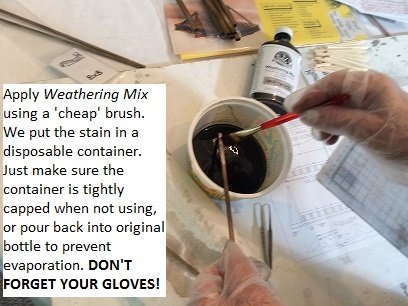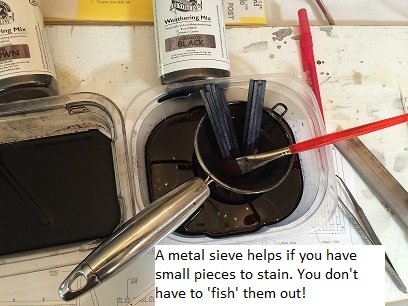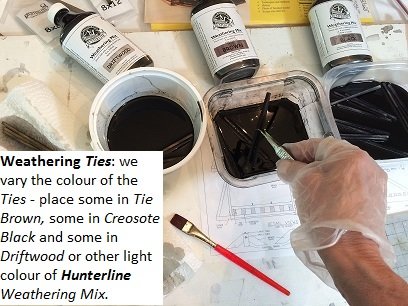 Clean Up
 Just wash brushes in soap and water.
Combining Colours
 You can mix colours or apply as 'combinations'. For example: to get that 'old' weathered barn board 'look', we apply a coat of Light Gray, then 'dry brush' varied areas with  Blue Gray and Medium Brown stains.
Have fun!!