GENERAL TECHNIQUES AND METHODS
General Instructions
All drawings are exact templates for the scale, except where noted.
Carefully sort all of the supplied components.
Examine all drawings, components and read the instructions completely, before any cutting or assembly. Familiarize yourself with every detail.
This kit is manufactured from the finest Hunterline basswood available. Ties are white pine because they have a higher moisture content and will accept rail spikes easier. The N Scale bridge ties are basswood.
From the Bill of Material, on the drawing, match up what size wood is used for what part. If in doubt, lay the wood directly over the drawing to match the width and breadth of each part.
Cut each component as accurate as possible. Your diligence will pay off!
Take care after cutting the various components, as they are easily mixed up.
Images may not be to scale.
Gluing
We recommend any glue that is rated 'excellent' for wood and states having a high initial tack.
We use Tite Bond Original or II, Elmer's or LePage's Carpenter's glue.
Apply glue sparingly with a tooth pick or other small applicator. Remove any excess that may ooze out. (We use tweezers to clean it up).
Assemblies  

As your work station, use a rigid surface such as a piece of softwood or old piece of plywood big enough to fit the drawing. You may want to iron the drawing to remove the creases. Place the drawing on the wood, cover with waxed paper and fasten it down with masking tape. This will keep the drawing from sliding (see Image). Glue will not stick to the waxed paper, but is transparent enough to see the details. If glue gets on the waxed paper, don't worry, it comes right off. If the waxed paper becomes worn or torn, replace it.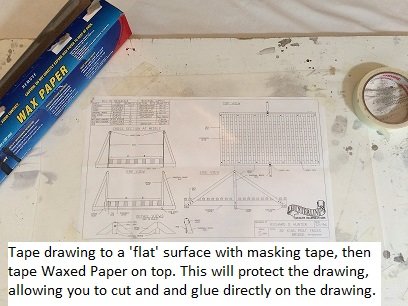 NBW Castings                                          

The NBW castings are easy to install after you have tried a few. Not all of the castings need to use the insertion tail. We usually use about one-third or more of the tail. Place the casting on a white surface such as a piece of paper. Place your X-acto blade over the tails, exactly where you want to cut. Do not try to cut all of them at once. Place your finger tightly on the top of the blade as you draw it across. The NBW's have a tendency to fly away. With your finger over them, they will stay in place and are easy to find on the white surface. If it is easier to install any particular casting without the tail, just cut it off and surface glue it in position. Start by locating their position as per the drawing. We use a pin or small drill bit to pierce the wood, then we use tweezers to pick up the casting, dip it in glue and insert it in the appropriate place.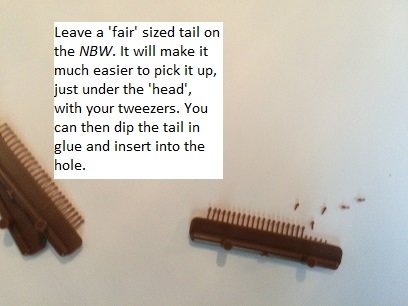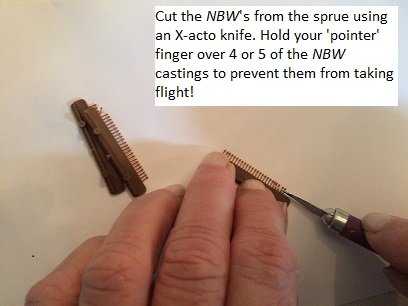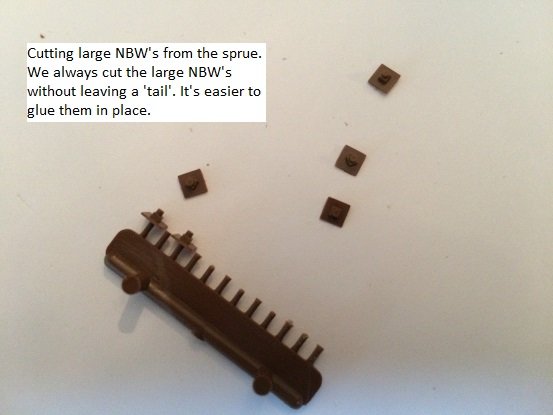 Some NBW castings are too small to manufacture. ie. for some N and HO kits, we suggest using an extra fine, non-bleeding, magic marker instead. Careful where you mark them, because you cannot erase them.
Tools Required
(example depending on the Kit)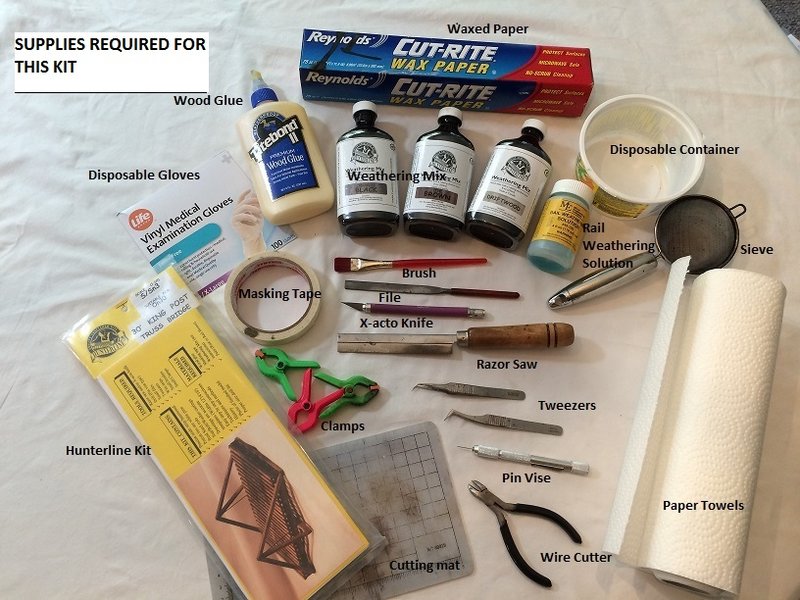 HUNTERLINE WEATHERING MIX INSTRUCTIONS
Check out our You Tube video showing specific applications of our Weathering Mix:
Hunterline Weathering Mix Applications
At Hunterline, we manufacture our own stains, called Weathering Mix. The Weathering Mix is available in a variety of colours and comes in an 8oz plastic bottle. See our website for available colours… https://hunterline.com
Our 'Weathering Mix' is alcohol based. The benefits of using alcohol instead of water are fast drying times which helps prevent 'warping' of the wood. It's easy to dilute the mix to get varying degrees of a lighter stain by adding 70% Isopropyl Alcohol.
We use a combination of leather dyes and pigments to obtain our colour selections.
There are many ways to achieve the colouring. Remember, in nature, there is not a too dark nor too light. If you have your own method, fine, do it. If you don't, try the methods we use.
Hunterline 'Weathering Mix' was developed for basswood application, but, it also works well with other woods and can be applied to plastic, certain foams (not Styrofoam), hydrocal, cardboard and paper. These instructions pertain to basswood application. It also works well in combination with other products such as Pan Pastels.
WEATHERING TIPS
Distressing the Wood
Begin 'weathering' by adding grain to the wood (distressing). This is accomplished by stroking a razor saw over all the surfaces, with the grain. Usually, with adequate pressure, one stroke will suffice.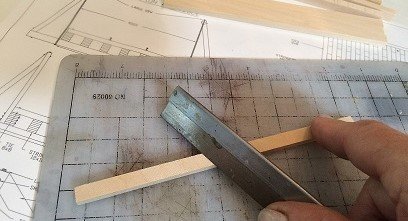 Distressing the wood using a razor saw.
You may find it quicker and easier to 'weather' all the wood components before cutting them to size. This is your preference, but remember to touch-up all the cut ends.
Remember that you cannot stain over glue, so stain everything before assembly.
Application
Wear protective gloves for the weathering process. Shake the bottle vigorously before using. Use straight from the bottle. We don't wipe the stain off, but you may want to wipe off the pigment based 'Weathering Mix' in some instances. i.e. for mortar lines on some plastic brick models.
You can achieve an entirely different effect by using a 'dry brush' method.
We try to apply haphazardly to get varying degrees of colour.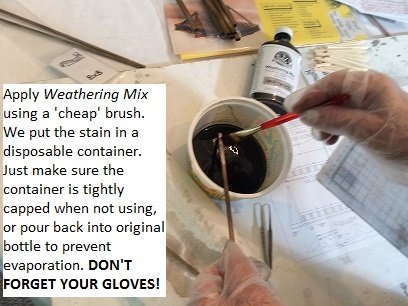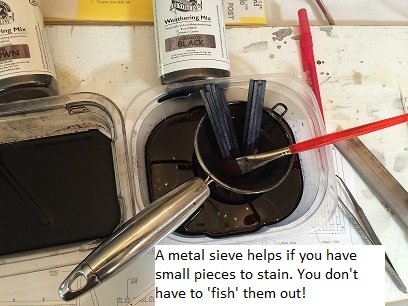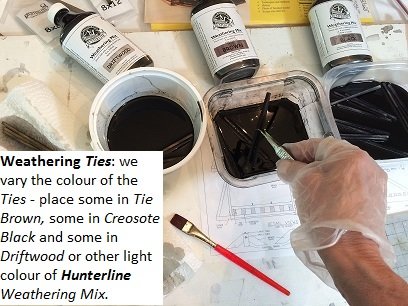 Clean Up
Just wash brushes in soap and water.
Combining Colours
You can mix colours or apply as 'combinations'. For example: to get that 'old' weathered barn board 'look', we apply a coat of Light Gray, then 'dry brush' varied areas with Blue Gray and Medium Brown stains.
Have fun!!