Description
Weathering Mix – 240ml / 8oz. plastic bottles
Weathering Mix Instructions:
Our 'Weathering Mix' stain is alcohol based. The benefits of using alcohol are fast drying time which helps prevent 'warping' of the wood and it's easy to dilute the mix to get varying degrees of a lighter stain – just purchase a bottle of 70% isopropyl alcohol at the drug store.
Yellow Ochre: One of our Earth Tone colours. Yellow Ochre ranges in colour from yellow to deep orange or brown. It is a warm 'earthy' colour. It works well to weather rock and when used in combination with our other Earth Tones, like Raw Sienna, Yellow Ochre, Raw Umber and Burnt Umber, you can achieve a very effective 'weathered' west wood colour. For example, begin by using Yellow Ochre for an allover base colour, then strategically 'dry brush' the other Earth Tone Colours to attain the colours as shown in these old west town buildings…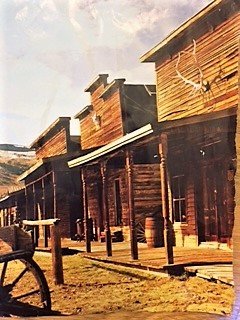 Application:
We always distress the wood prior to application. Wear protective gloves when handling. Just use any 'cheap' brush to apply. Shake the bottle vigorously before using or if you want a lighter colour, only shake a little. If using one of the mixes containing pigment, you may need to shake vigorously or stir to thoroughly mix the pigment and alcohol, as the pigment has a tendency to 'settle'. Use straight from the bottle. We don't wipe the stain off, unless using one of our pigment colours. You may want to wipe this stain off, depending on the effect desired. We really try to apply haphazardly to get varying degrees of colour.
Will it work on other material?
You can get a good effect on plastic, paper, cardboard, and hydrocal.
Clean Up – just wash brushes in soap and water
Have fun mixing colours or applying in 'combinations'. The following instructions will explain how to get an old Barnboard look. You can also use this method to get a 'peeling' paint look with different colour applications. For example, Barnboard Red weathering – use Light Gray base with Barn Red dry brushing. (see sample images)
Barnboard Gray Weathering Instructions
When doing our research on how to achieve that 'old weathered' barnboard gray 'look', we noticed that we could see varying degrees of gray and brown colours. Where the wood had 'rotted', where there were 'knots', or where there was 'bare wood', the colour was brown.
To achieve this 'look', we follow a 3 step application method (It's not a matter of 'mixing' the colours).
What you will need:
3 bottles of our Weathering Mix – Light Gray, Medium Brown, Blue Gray, Any coarse paint brush – size appropriate to the project
Three step application method:
Begin by 'distressing' the wood. Use whatever method you are accustomed to. We always use a fine toothed razor saw.
1. Apply one coat of the Light Gray Weathering Mix with your paint brush. No need to 'wipe' the colour off. It's great to have varying
degrees of colour!
2. Apply the Blue Gray Weathering Mix sporadically on the project using a 'dry brush' method. Before applying the colour with your brush, dab excess mix on a paper towel. You don't want the brush too wet. Having your brush a little drier, gives the project a more 'blended' look. Remember, you want to see varying colours of gray.
3. Apply the Medium Brown Weathering Mix, following the method in Step 2. Remember, you want to see brown in the areas where there may have been 'rot', 'knots' or 'bare' wood exposed.
Have fun!! If you have any further questions, don't hesitate to call or email us.
CAUTION: Wear protective gloves when handling.    Flammable: Keep away from heat, sparks and open flame.
First Aid: If swallowed, call physician immediately.    KEEP OUT OF REACH OF CHILDREN